Belt Holster Without Thumb Break The DeSantis Speed Scabbard is exactly what it says: a … Continue Reading…

Great General Purpose Utility Holster w/ Spare Ammo Loops The Pro Carry Ranch Series Governor … Continue Reading…

Thumb Break Strong Side or Cross Draw Carry The DeSantis Dual Angle Hunter was the first … Continue Reading…
Governor Holsters For The Range, Ranch, Concealed Carry
(Accessories Too!)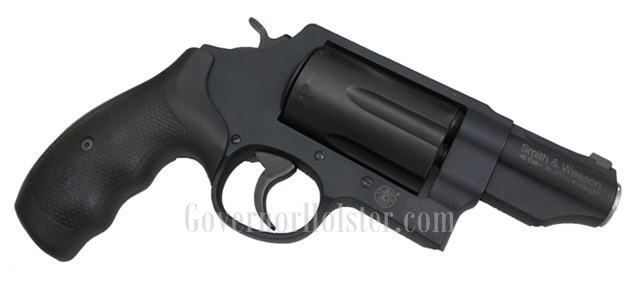 Welcome To Governor Holster Review!
I own a Smith & Wesson Governor and realize that a Governor holster is essential to not only protect my firearm but also to make carrying it - whether on the range, out on the farm or for concealed carry - safe and comfortable.
We all really enjoy shooting the S&W Governor with all 3 varieties of ammo it accepts. My original attraction to this particular revolver was its ability to shoot .410 shotgun out of a pistol, and have 1 more round in the cylinder than its primary competitor, the Judge.
The ability to mix loads is really quite astounding. The Governor can be fantastic for personal defense, a snake gun or other varmits, or just plain fun to shoot.
While perhaps a bit more challenging than some other pistols, Concealed Carry is even a possibility with this firearm, and we will look for the best holsters to accommodate that mission too.
Additionally, we will be looking at accessories like, oh by the way, where do you secure your Governor when you have to leave it in the car to go into a post office, FedEx, a 51% establishment (whether you are consuming or not), etc?
Where do you secure it at home, either at night - at the ready, or when you are not carrying it?
How to you clean and maintain your Governor?
I hope to cover all those topics and many more.
One thing for sure is that I love my S&W Governor, I am amazed at how well it fits my hand and balances, and want to be able to carry it safely in a wide variety of situations.
Please leave comments and let us know your thoughts and experience with this firearm and holsters!
---
Governor Ammo Reviews
Ammo Comparison (Video)
.410 Ammo
.45 Long Colt
.45 ACP
Personal Defense