Gun Safe For Auto, Home, Wherever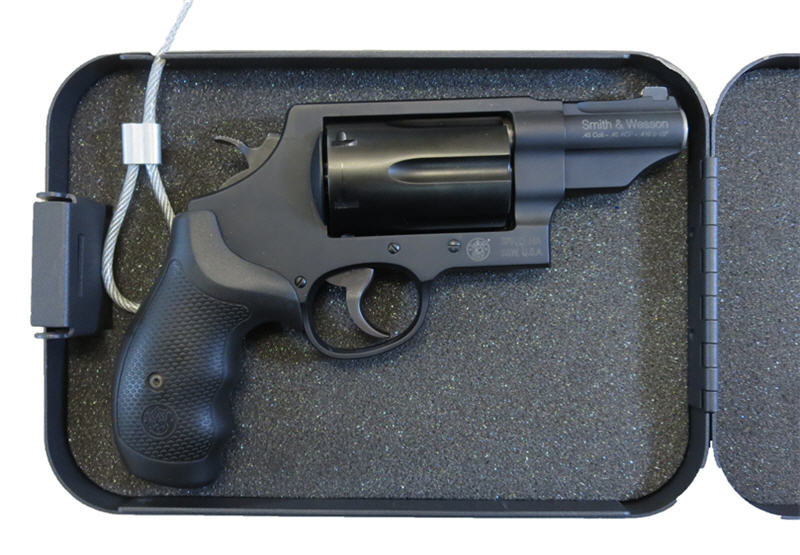 It's nice to be able to have a firearm with you when you leave the house and this SnapSafe XL Lockbox might ease your mind a bit about all the places you go where your firearm is not welcome. Like the post office and … the bank.
Apparently these banks never considered that traveling to and from their building might be the time you MOST want to have a firearm with you! And, we all know that the "No Guns Allowed" signs make sure the bad guys won't carry a gun in.
But..good guys obey the law.
The SnapSafe XL Lockbox seems to be one of the sturdiest gun safes available in this price point, currently about $24 with free shipping at Amazon (click here). They also have a 2 pack that is keyed alike. This is the larger version, they also have a smaller one. For the Governor, note the photo above, the XL is just big enough to work.
18 gauge steel, all steel construction
XL Size, Outside Dimensions: 10″ x 7″ x 2″
Steel cable
2 Keys
Fits up to large autos (1911, full size Glock), S&W Governor, large revolvers with short barrels
Using SnapSafe XL Lockbox in a Vehicle
Obviously a car or truck is the obvious place to use the SnapSafe XL Lockbox, but it is TSA approved and could be used in a hotel, apartment or even your home. This is a far better solution in our opinion than just storing a gun in the glove box or console of the vehicle.
It comes with a heavy steel cable that you can wrap around a car seat mounting bracket, preferably under the passenger seat so it does not slide out and interfere with your feet on the pedals after a quick stop.
There are no holes pre-drilled into the SnapSafe if you wanted to mount it more permanently, but I don't see why you couldn't drill your own as needed.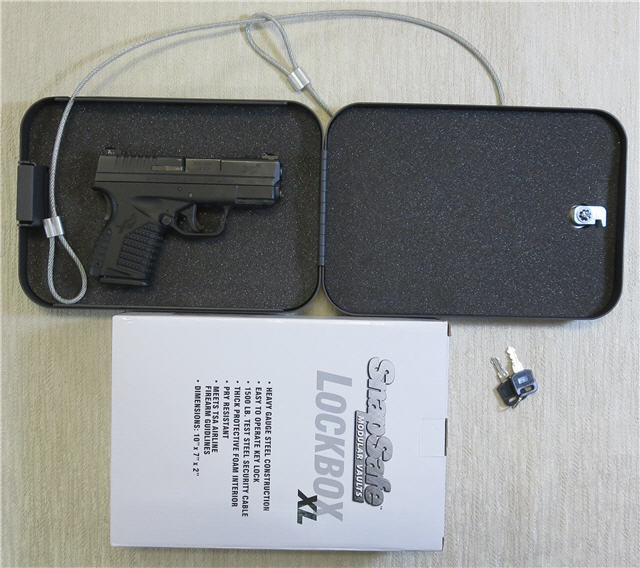 Key Lock
The SnapSafe lockbox comes with 2 keys marked with a number matching the number inscribed on the lock. Nothing too fancy but probably good enough.
I was tempted to buy a gun safe that had a combination lock as I have gotten spoiled with the simplex lock on my old gun safe in my old pickup (see video below). Unfortunately the only model I could find in this price point with a non-key lock received some poor reviews with regard to the lock being plastic and even jamming.
Thus these car gun safes are not for 'quick access' but more for responsible, ease-the-mind a little, semi-secure temporary storage.
SnapSafe XL Lockbox Video Review
Here is a short video review of the SnapSafe XL Lockbox, watch until the end of the video to see various guns fitting in the box as well as a better (?) method of arranging the cable inside the box to protect your firearm.
Summary
In the end, how can you go wrong with something built well enough to work, mostly 5 star ratings on Amazon, and only $24 with free shipping? Well, the only thing I don't like is the "Made in China" sticker on the bottom.
But since I have bought several of the home safes from SnapSafe and been quite happy, this little gun safe was one of the first I looked at. I think it's a good buy and will probably get a couple more.
Learn more about the SnapSafe XL Lockbox on Amazon
Or…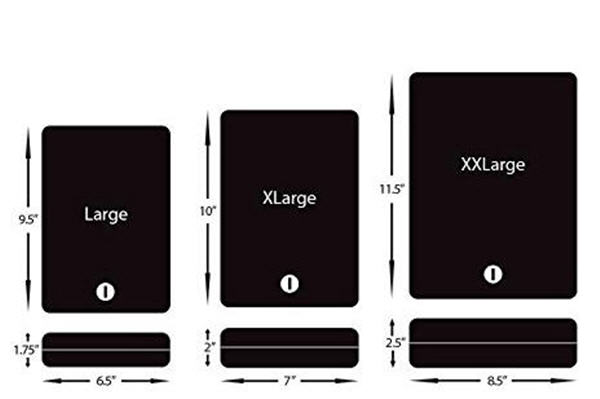 SnapSafe also has a SnapSafe XXL which is bigger yet, but beware, it's also thicker. So if room under the car seat is tight at 2″ it won't work with the 2.5″ XXL (11.5″ x 8.5″ x 2.5″).
Learn more about the SnapSafe XXL Lockbox on Amazon
Just for completeness, here is the smallest one ( 9-1/2″ x 6-1/2″ x 1-3/4″):
Learn more about the SnapSafe Lockbox ("Large" size, I guess) on Amazon