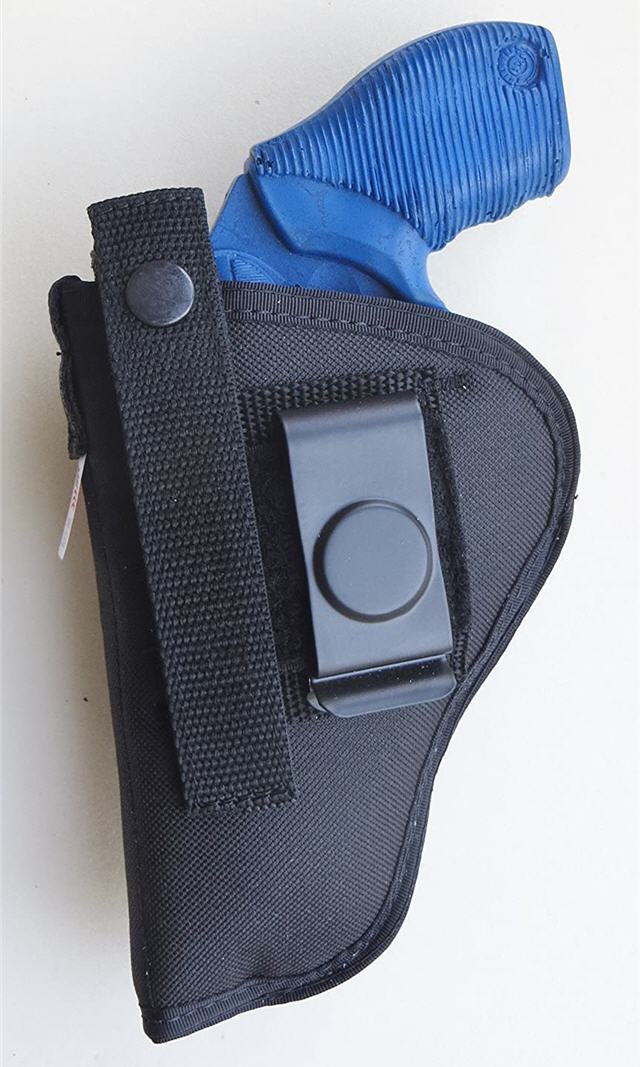 Simple, Affordable Governor Holster
The Federal Hip Holster for the S&W Governor is an economical and highly rated nylon holster for your consideration.
Lots of holsters, both leather & Kydex, have a tendency to be kind of pricey. Leather ones especially!
Sometimes you actually get what you pay for, yet sometimes you just need something that works! Further, are there times you don't wear an expensive holster because you want to keep it looking nice?
Well, a nylon holster like the Federal Hip Holster might just be your answer when it comes to carrying a Smith & Wesson Governor. At this time, it sells for under 20 bucks on Amazon (Click here).
Federal Hip Holster: Benefits & Features:
Ambidextrous Nylon Holster for the S&W Governor
Dual Belt Loops for Right or Left Hand Wear
Metal Clip May Be Moved From Side to Side using Butterknife or Similar Object
Adjustable Thumb-snap retaining strap
Other Shooters' Reviews
When we first saw this holster we wondered whether is was just too cheap to consider. This first review we read really put things in perspective:
This Governor holster is just what I was looking for. It is lightweight, economical and comfortable [emphasis ours]. I was concerned about the size for a S&W Governor based on mixed reviews on it being the right size. I just don't get how some people say it fits great and others say it does not fit at all [As it turns out, sometimes Amazon does not fulfill with the right product. I don't think it's often, yet sadly some won't contact Amazon to make it right, they just write a bad review!]. When I first got it it looked too small but it is a very cool design and expands to fit. I found it to fit perfectly. The Velcro straps also allow you to adjust the strap length to fit over the trigger or as desired.
This is pretty typical of the LEGITIMATE reviews we have found regarding this product.
The next review mentions exactly what we were referring to up above in this review of the Federal Hip Holster:
Perfect holster for the Governor! Fits perfect, not cheaply made for the price, AND made in AMERICA! Great little inexpensive holster for exactly what I need it for- working around the yard and fishing. The great thing about it is the price! If I mess it up in the yard, I don't mind because it wasn't that expensive.
Notice also a key phrase, especially since COVID-19: MADE IN AMERICA!
Isn't it nice to support American products and American jobs? Especially when it comes to 2nd Amendment products?
We sure appreciate the opportunity to support MADE IN THE U.S.A.!
So if you're looking for a simple, economical, well fitting Governor holster – check this one out at Amazon