Remington Home Defense, Winchester PDX1, Buckshot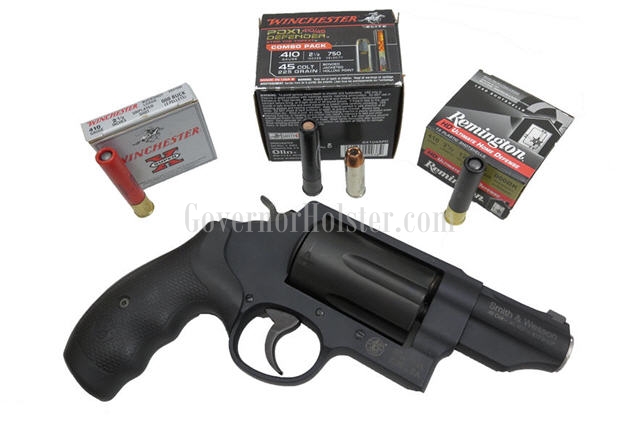 When it comes to .410 ammo for your Smith & Wesson Governor (or Taurus Judge, Public Defender) it really pays to run some ammo through the gun paying close attention to what kind of pattern results at what distances.
I was inspired by an older tactical shotgun video I watched the other day where the instructor challenged students to ALWAYS test the exact ammo with the exact configuration (choke tube) to see what kind of pattern to expect.
In his video, there were even mock hostage scenarios where the bad guy was shot with a shotgun! That surprised me, but apparently quality ammo in a well made shotgun will perform consistently enough to do that.
As explained in the video, all shots were fired from about 5 yards from the target. And since this is a Governor, all .410 ammo is of the 2-1/2 inch variety.
.410 Ammo Compared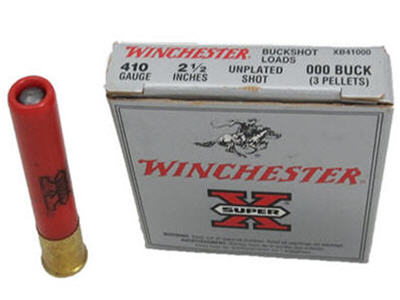 Winchester Super X
In this video I took some regular 3 pellet Winchester Super X 000 Buckshot, which one would suspect is about the cheapest .410 ammo you can buy.
Turns out that depends as .410 ammo is not a highly stocked item anywhere I shop.
The Super X actually turned in a pretty decent performance out of the Governor at 5 yards; normally 1 pellet was close to the bulls-eye and the other 2 in a consistent, predictable location on the target.
I would not hesitate to use the Super X as a personal defense ammo; at least I know where the pellets will hit and they will be centered on the point of aim.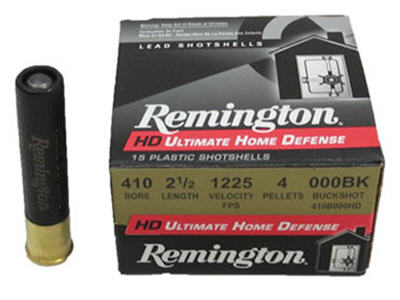 Remington HD Ultimate Home Defense
I was able to find a good deal on Remington HD Ultimate Home Defense .410 ammo, 000 Buckshot with 4 pellets and was pretty excited.
Mostly, I was going by the name Remington.
After testing, however, I was disappointed – and you will see why in the video below.
My first experience with the ammo was trying to hit a soda bottle at about 5 yards (not in the video) and having the others with me exclaim "you missed!". After shooting this video, you will see why I missed.
While the pellets may be predictable, NONE will hit the aim-point when fired from a S&W Governor at 5 yards. Note the considerably better performance from the M-6 Scout with 16″ barrel; but, a 16″ barrel is no personal home defense weapon in the same way a revolver is.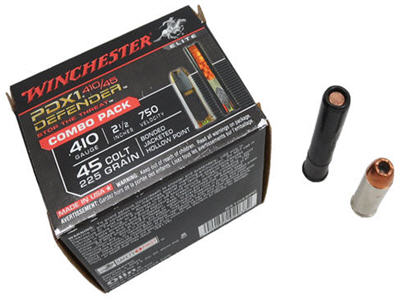 Winchester PDX1 Defender
The Winchester PDX1 Defender .410 ammo is quite a bit pricier than the previous two; is it worth it? Judge (no pun intended) for yourself.
This video does not cover the .45 Long Colt, just the .410.
We saw good consistency of patter with the PDX1 Defender, and always had some of the 'meatier' pellets right on the aim-point. That's certainly what we want to see.
Does it pack the punch of buckshot? Well, it does not penetrate the wood backstop as much but, I believe it is designed to be safer from over penetration (think walls) indoors. This would be a desirable feature for Governor personal defense ammo.
Where To Buy .410 Governor Ammo
Ammo availability has been nuts for years; with the forever wars begun by George W. Bush and continued under the wannabe gun grabber Barack Hussein Obama II you never know what you can find let alone at what price.
Recently I have found Brownell's to have a great variety and availability of 2.5″ .410 ammo at reasonable prices. And Brownell's service is impeccable. Looks like they are about to open that awesome new distribution center in Iowa not that far from my old stomping grounds.
.410 Ammo Comparison Video
Conclusion
One thing for sure, you can bet I will NOT be buying any more Remingtion HD Ultimate Home Defense .410 for my Governor. I am disappointed to say the least.
Let that be a lesson to not trust a big name, but go for reviews or buy just a little and try it out yourself. I know, with the price of ammo we all want to buy in bulk to get the cheapest price per round. Well, hopefully this post & video will help you decide which ammo to test in your Governor without wasting any of your money!